It's been about two months now since Brittany and I UNVEILED our project to self-publish a photography book focusing on rescue pets of Boston, and so I thought I'd finally give you an update as to where we currently are. In all we will have about 70 (!) dogs and cats (and a couple of other species) to be featured in the book. By the way, if you had left a comment here or emailed about wanting your pet featured, and I did not get back to you, my sincerest apologies! Brittany has been handling all of the inquiries (I'm going to hire her to book me weddings after this!!), and soon after announcing this project we were already overwhelmed by the number of responses. Given that both of us live downtown, and that my schedule was about to blow up with the start of wedding season, our tactic has been to book Boston-centric pets and work our way out if the time allowed.
So far in the month of May we met over 40 wonderful dogs and cats from all over the city who graciously invited us into their homes – penthouses in the Back Bay, studio apartments in Allston, houses on the water, front stoops, back decks, city parks, under the bed…you name it!
It has been so much fun meeting everyone. Here is a portion of my digital contact sheet for a little taste of what's to come.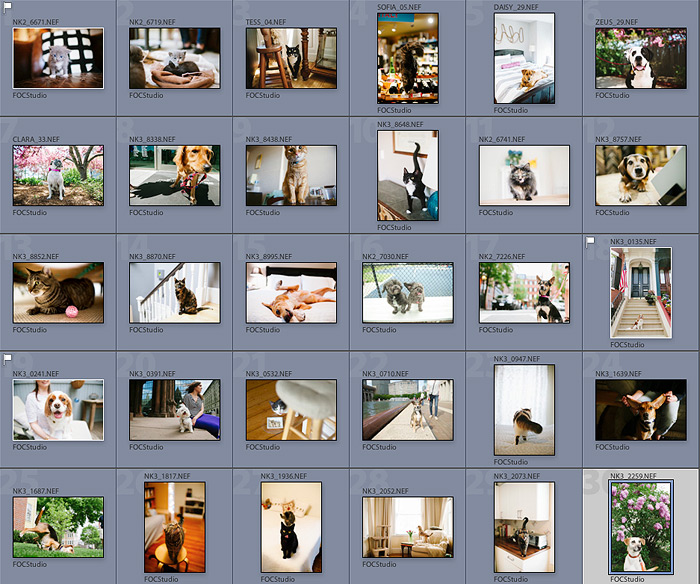 We've also been featured online at BostInno.com. You'll see some more sneak peeks there!
As we wind down shooting this month, we will begin starting the book design process. I actually don't think that will be very hard. The hard part will come right before that when we must sit down and select our very favorites!
The other very difficult part is coming up with a book title. For whatever reason both of our creative wells are completely dry on this front, and we've come up with absolutely nothing, except "Rescue Pets of Boston". I think we want something a little punchier, no? Help us!
Leave a comment here for any suggestions, or on our Facebook page. Are you following us there yet? You should! You'll see some fun behind-the-scenes shots of our models, me photographing them, and Brittany having a glass of wine or two :)
A huge thank you to all the pets and their owners who have participated so far! I know you're going to love the book!