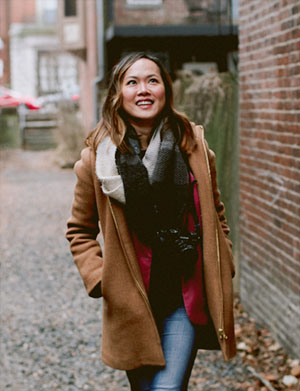 Hello! My name is Li Ward and I am a wedding and pet photographer based in beautiful Boston, Massachusetts. I started Fat Orange Cat Studio in 2009 as a pet photography studio after years of snapping my two brother rescue cats , Bunny & VanBuren (aka Veebs) for my own amusement. I never for a second thought that photographing other people's pets could be a business until someone suggested it, and once they did it seemed so obvious! I named it after my wonderful fat orange cat Veebs and all the many orange cats I've had growing up. Even though it was not in the plans, I started shooting weddings too soon after.
I first became interested in photography when I came across a black and white photo of JFK called "The Loneliest Job" in junior high school. JFK is standing with his back facing, hunched over his desk as if contemplating some huge presidential decision. The photo struck me, but only later when I learned that he was in fact just reading the newspaper (and standing because that helped alleviate back pain) did I fully appreciate the power of photographic storytelling. Only one story is true, but the other is just as compelling.
I majored in computer science in college and went on to work in the dot.com industry for a decade before I decided to switch gears. Throughout my time as a photo hobbyist, that JFK image stuck with me. While I love all the beautiful details and portraits that I get to capture now as a professional wedding photographer, my favorite type of images are still those that are voyeuristic, moody, atmospheric…capable of evoking deep feelings and of telling more than one story.
Today I am a full-time wedding photographer and pet photographer. In 2012 I was named one of Rangefinder Magazine's Top 30 Rising Stars of wedding photography. When I am not photographing, I am designing invitations and other paper goods. I live with my husband Dan and our cat Bingley in our Boston rowhouse.
Profile photo courtesy of Lisa Rigby