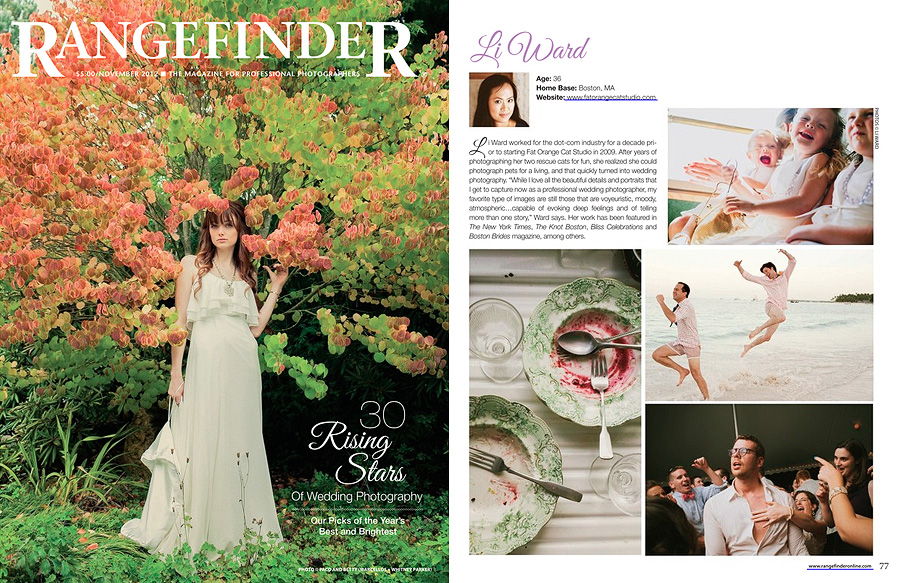 I am so honored to have been named as one of the "30 Rising Stars of Wedding Photography" by Rangefinder Magazine. Pinch me. Pinch me like you've never pinched before. I had never intended to be a wedding photographer, so I feel incredibly lucky to have been even considered, much less chosen! In my bio for them I described my photos as "moody" and "atmospheric" and "evocative" and submitted lots of photos I thought illustrated that…and in the end half of the photos the editors picked involved groomsmen in various states of undress. Then there's a sinkful of dirty dishes. I should rewrite my bio.
Thank you to all my awesome clients, pets and weddings alike, and especially the early ones who gave me a chance when I was very green. And many thanks to the amazing group of Northeast photographers for all your support and encouragement throughout my journey! (Lisa Rigby page 74! Jen Huang page 66!)
If you want to see how far I've really come, here is the first wedding photograph I ever shot:
Bunny (left) and his brother Veebs, my dearly departed fat orange cat who I named the company after. Veebs, this is for you!
To see the full list, pick up a copy at Barnes & Noble (if they would ever refresh their newsstand!!) or visit the online 'zine.