It's two days before Christmas and I have at least trimmed my holiday mantel! For awhile we've skipped having a real tree because our condo just doesn't have the space for it, and frankly the cleanup afterwards is not fun. After the season is over, we're left with a browning tree that drops all and I mean all of its needles on the way down the four flights of narrow stairs to the curb. We still have brown needles from trees of Christmas past decaying between the old floorboards and forever between the floorboards they will stay.
So this year in lieu of a tree I decided we should trim our beautiful marble (non-working) fireplace instead, and I mean really really trim it with deliberate thought and a real design eye. I wanted more "winter" and less "holiday" so that we could keep it up past the December. Instead of red stockings and Santas and a lit ceramic village nestled in cotton snow, I wanted…mmmm…what did I want? I did not know! Already I was overwhelmed. So I asked my stylist friend and neighbor Kathryn of Bash Studio to help me with this task. It's so nice to have a handy neighbor :)
One idea turned into many, and before I knew it trimming the mantel turned into a full-fledged project that lasted nearly week! We came up with 3 winter mantel concepts, much of which was inspired by what was already in my house and what we saw at the flower market. I thought I'd share what we came up with over the course of the week!
The first mantel – and the most "holiday" themed – is what I'm calling The Mantel of Mr. Charles Brown, Esq. Imagine Charlie Brown all grown up and living in the South End ;) The idea started at the Boston Flower Exchange where I spotted a sad, sparse little tree amongst a sea of beautiful lush ones, and decided its needle drop would be perfectly manageable.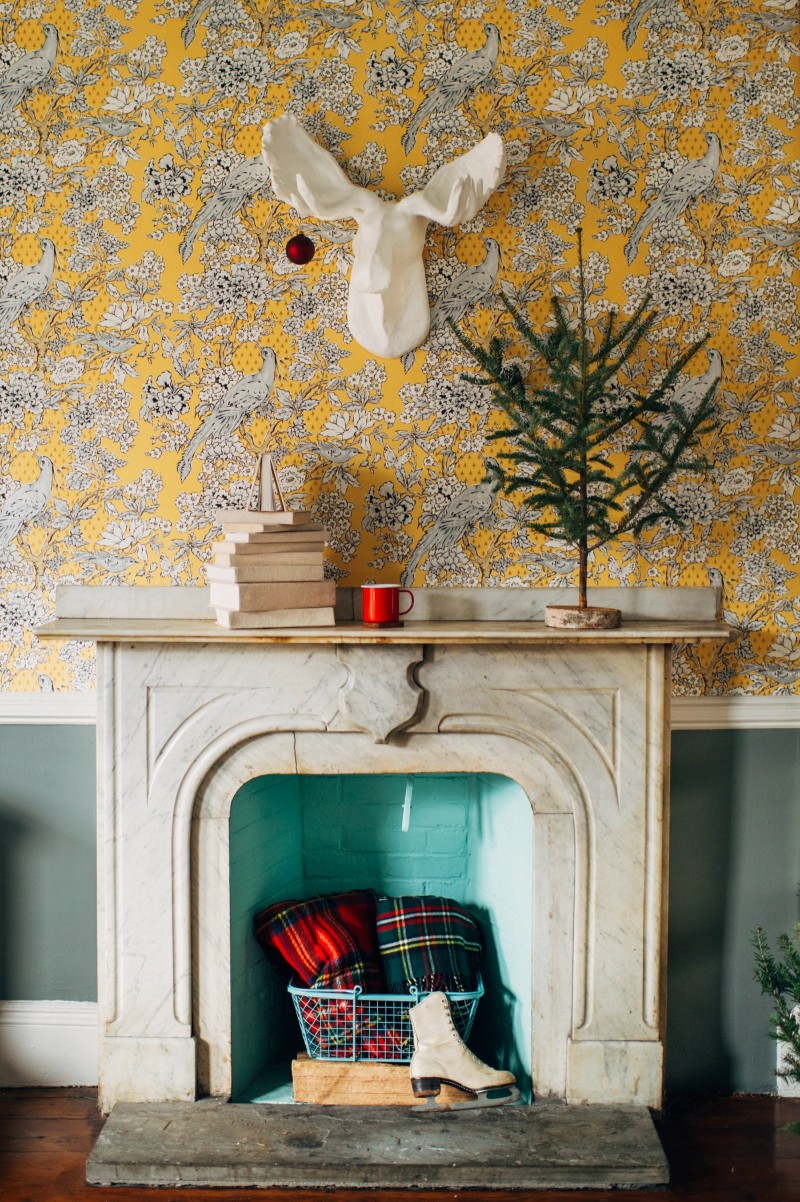 We worked around existing elements like the wall color, interior fireplace color,
and the yellow wallpaper (Cranesbill Castle Wallpaper by Over & Over for Anthropologie)
Paper mache moose head is mine from West Elm – it used to be in the powder room.
Red wool blanket was a gift from Ireland from my mother-in-law.
White ice skate I found last weekend at the SOWA Vintage Market in the South End.
Linen covered books are Kathryn's from a past project she did. I tented the top book as a nod to Snoopy's house (see I CAN design!!)
Forest green wool throw is from Hudson in the South End
Teal market basket is also from Hudson
Red enamel mug is from West Elm
Red ornament – everyone has at least a red ornament!
Because he's Charles and not Charlie, the red enamel mug is now filled with coffee. Splash of soy milk. Hold the sugar. And look! Snoopy makes an appearance in the photo on the left below. Except he's now a peacock.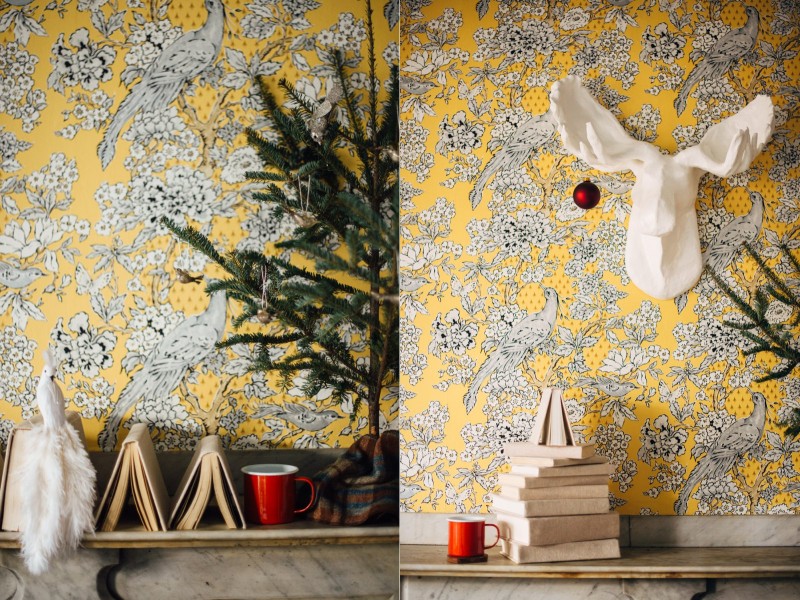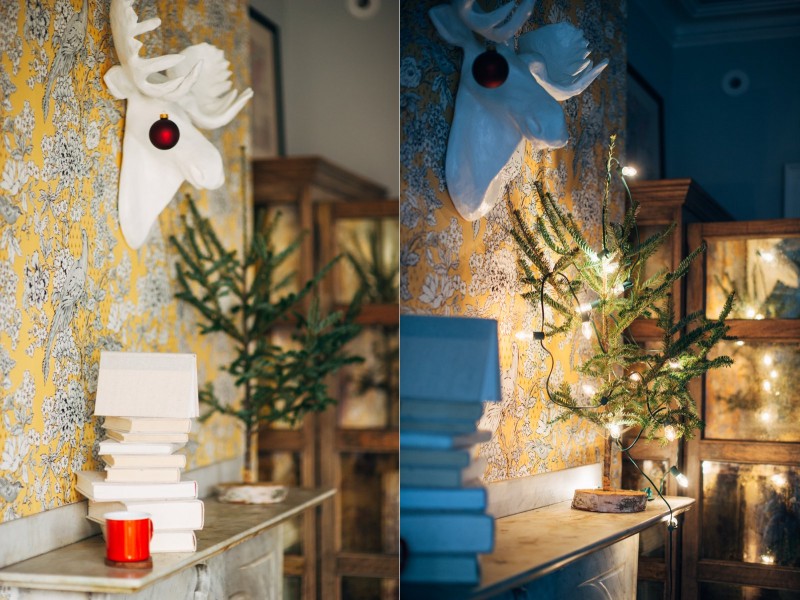 Charles Brown Mantel Version 2: There's a little topsy turvy thing going on where we put the firewood on top of the mantel (my idea! I'm a stylist now!) and the linen books inside the fireplace. Linus is a frequent visitor to Casa Brown but like Charles, he's more grown up, and so the natty blue security blanket has been traded in for faux fur throws. Charles has a stack on hand for when he comes over to watch movies. They're from West Elm, as are the metallic candlesticks.
The red mug is now spiked with whiskey and Charles is winking at you.
If you want to read more, head over to Kathryn's blog where she explains all the design how's and why's of putting this Charles Brown mantel together! It's fascinating to read how something that looks easy actually has many rules behind it!